Denver-based National Bullying Prevention Program Celebrates Its Fifth Anniversary With International Expansion And New Program Focused On Cyberbullying
Home » Blog » Press Releases
October 12, 2018 By Haunt News & Press Releases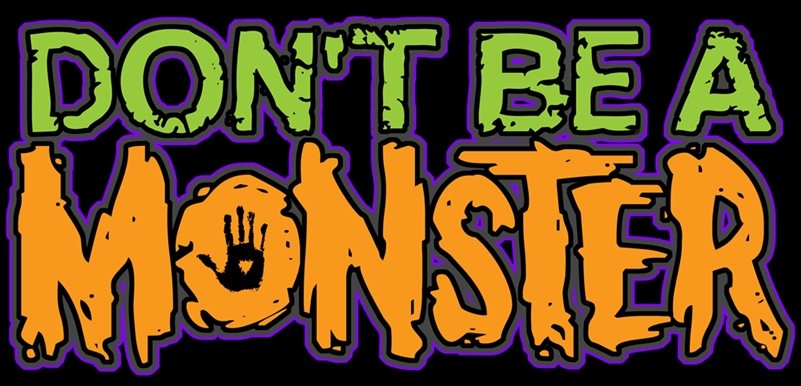 Denver-based National Bullying Prevention Program Celebrates Its Fifth Anniversary With International Expansion And New Program Focused On Cyberbullying
Don't Be A Monster Announces Expansion into One Additional U.S. Market and One Overseas
Denver (Oct. 12, 2018) – Don't Be A Monster, a national bullying prevention program, is excited to celebrate its fifth anniversary by announcing its expansion into two more markets, one in the U.S. and one in Dubai, U.A.E. The Denver-based nonprofit is now serving 20 U.S. cities and one international market. Also new this year, is an update to the Don't Be A Monster presentation that is now focused entirely on cyberbullying.
At a glance:
Don't Be A Monster works with major haunted attractions in 20 U.S. markets and one in Dubai, in Denver its partnering haunted house is the 13th Floor
Program is delivered September through November, during National Bullying Prevention Awareness month and the Halloween season
Program includes presentations for students in grades 4 - 10 in each market to entertain and inform students about issues related to cyberbullying prevention
679 school visited nationally; 1,019 presentations held; more than 320,000 students reached
"Don't Be A Monster seeks to empower students to stand up for their friends and peers, build cohesive and caring communities, and report issues to trusted adults," said Erin Kelley, program director for Don't Be A Monster. "This year we are focusing on cyberbullying, a growing problem for today's youth. Our message is simple: In a world where you can be anything, be kind."
Don't Be A Monster seeks to improve the lives of youth in America by conducting targeted outreach and educational activities in schools. The program features an hour-long presentation that delves into the implications and consequences of cyberbullying in an effort to raise awareness about the seriousness of the issue and to prevent it from continuing, which includes addressing issues that may already be present in school. Tools used to deliver the program's message include a six-minute video, enthusiastic presenters, engaging presentation, and a symbolic character named Frank who represents people who are a little different. Frank makes guest appearances at all of the schools.
Don't Be A Monster was founded in 2013 in part by the partners of Denver's Thirteenth Floor Entertainment Group, the nation's biggest haunted house operator which owns and operates 13th Floor and City of the Dead & Asylum haunted houses. In each market it serves, the nonprofit partners with haunted attractions to deliver programs in area schools. With the program's new expansion, 21 haunted attractions serve as partners, Denver's 13th Floor is one of these partners. Additionally, a number of supporting haunted attractions nationwide and the Haunted Attraction Association fundraise and help spread the word about the program.
Denver-Based Nonprofit, Don't Be A Monster, Celebrates its Fifth Anniversary with International Expansion and New
Program Focused on Cyberbullying
The haunted house partners and cities Don't Be A Monster is active in, include:
13th Floor Haunted House Chicago
13th Floor Haunted House Denver
13th Floor Haunted House Phoenix
13th Floor Haunted House San Antonio
House of Torment (Austin, Texas)
Netherworld Haunted House (Atlanta, Ga.)
Headless Horseman Hayrides & Haunted Houses (Ulster Park, N.Y.)
Erebus Haunted Attraction (Detroit, Mich.)
Nightmare on 13th (Salt Lake City, Utah)
Wisconsin Fear Grounds (Waukesha, WI)
The Beast Haunted House (Kansas City, Mo.)
The Bates Motel and Haunted Hayride (Glen Mills, Penn.)
Cutting Edge Haunted House (Dallas, Texas)
Phobius Haunted House (St Louis, Mo.)
The Lost Hollows Haunted Attraction (Lake Charles, La.)
Stillwell Manor Haunted House (Anderson, Ind.)
Spooky Ranch Haunted House and Hayride (Cleveland, Ohio)
Requiem Haunted House (Caldwell, Idaho)
Georgetown Morgue (Seattle, Wash.)
New for 2018:
Hysteria Haunted Attraction (Dubai, UAE)
Danger Run (Louisville, Ky.)
There are a few limited school presentation opportunities remaining in Denver which can be requested by contacting
info@dontbeamonster.org. For more information about Don't Be A Monster, visit dontbeamonster.org.
###
About Don't Be A Monster
Don't Be A Monster is the largest 501(c)(3) nonprofit organization that works alongside haunted attractions in the United States. The
Denver-based organization offers unique and entertaining anti-bullying assemblies for students in 4th-10th grade. For 2018, the Don't
Be A Monster presentation focuses entirely on cyberbullying. The nonprofit's mission is to educate and empower youth to be leaders
around diversity, inclusiveness, and show them how to stand up for their friends and peers. To learn more, visit dontbeamonster.org.