Del Monte Halloween Costume Giveaway Promotion – Go Bananas!
Home » Blog » COHauntedHouses.com News and Updates, Press Releases, Halloween Headlines
September 15, 2015 By Wendy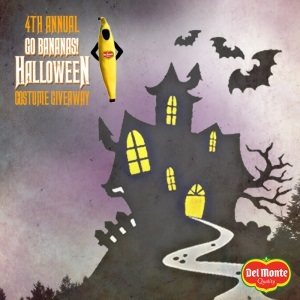 Del Monte's 4th Annual Go Bananas Halloween Costume Giveaway
Photo by:
Del Monte Fresh Produce on Facebook.
What's your favorite fruit? If it is the banana, head over to Del Monte's latest sweepstake where you can get a chance to win a Del Monte branded banana costume to wear for Halloween!
Del Monte is hosting its fourth annual Go Bananas! Halloween Costume Giveaway to encourage healthy eating and living because bananas are a healthy alternative to candy.
There will be 1,000 banana costumes to give away randomly to its social media fans who enter. Go to www.freshhalloween.com to find out more. The promotion continues to run until September 30th.
Let us know if you enter and win!
Photo Gallery