Deliver Scares this Halloween Season at a Local Colorado Haunted Attraction!
Home » Blog » COHauntedHouses.com News and Updates, Colorado Haunt News
August 1, 2017 By Chelsea T.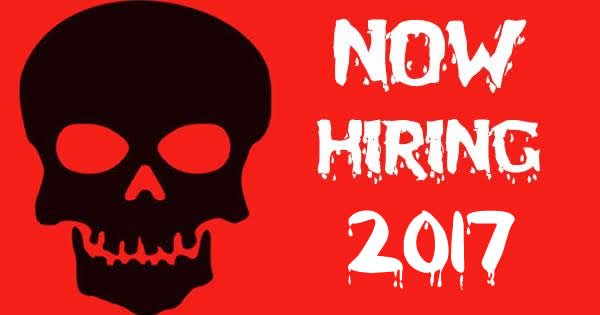 As we enjoy the Summer time, the Halloween Season is creeping up on us. Tons of Haunted Attractions all across Colorado are preparing for the Haunting Season, and have been for quite some time now.

To get things ready to scare Colorado locals this year, Haunted Attractions are in the hiring process and looking to find scare actors or other employees to help the haunt run smoothly all season long. Take a peek at the list below to find a local haunt to work at during the 2017 Halloween Season!
13th Floor Haunted House
4120 Brighton Blvd., Denver, CO
303-355-3327
City of the Dead
7007 E. 88th Ave., Henderson, CO
720-254-1627
HellScream Haunted Houses
3910 Palmer Park Blvd. Colorado Springs, CO (held at Sinister Haunted House)
719-633-8252
Note: Must be 17 or older to apply. Auditions: August 5th & 6th | 11 AM-3 PM
Sinister Haunted House
3910 Palmer Park Blvd. Colorado Springs, CO
719-650-4483
The Asylum Haunted House
6100 E. 39th Ave., Denver, CO
303-355-3327
Is your Haunted Attraction hiring? Email Chelsea@HauntedHouseMedia.com to get your Haunt added to the list & be sure to check back as we'll be updating the list regularly!