Colorado Haunted Houses
39 days until Hallooween 2014
COHauntedHouses.com is the quick and easy way to find all the exciting Halloween attractions in the Colorado area for 2014! Halloween is just around the corner, and if you're looking for some spooky fun then you've come to the right place. We've put together a list of local Colorado haunted houses, hay rides, spook walks, and more for the scariest day of 2014! Check out all the attractions below - there's something for everyone!
Located in Denver
303-355-3327

Denver's favorite haunted house! Featured on the travel channel's show america's scariest Halloween attractions! Completely new and redesigned for the 2014 season!

Are you ready to GET SCARED?! FACE YOUR FEAR at the most insane haunted houses of all Denver Haunted Houses! "Within the walls of the legendary Nightmare Factory a hidden passage was unearthed! This passage descended two leve... Read More

Located in Denver
303-355-3327

In most buildings, there is no 13th Floor, unfortunately hidden in this one, there is...

As legend has it, the 13th Floor, a haunted house built from your darkest nightmares. Well, the thing about legends and nightmares is...sometimes they're real. The 13th Floor, Denver's legendary haunted house, a gut wrenching ride to untold nightmares 13 floors straight down!

What is the te... Read More

Located in Henderson
(720) 254-1627

CITY OF THE DEAD IS DENVER'S LARGEST & MOST INTENSE HAUNTED HOUSE!
RATED # 1 HAUNT IN DENVER!

Massive in size, the City of the Dead boasts an intense 20+ minute journey through a wretched City born of the UNDEAD where relentless Zombies feast upon the living souls that dare enter. Completely updated for 2014, come see the all new City of the Dead as you've never seen it before! Read More
Halloween 2013 COHauntedHouses.com attracted over 15,348 visitors.
A 233% increase from 2012...
More...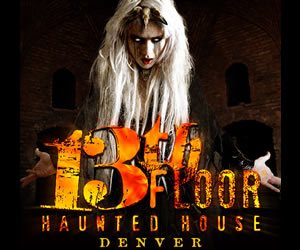 Featured 2014 Halloween Events
Colorado Halloween Events
Halloween event list including haunted houses, corn mazes, hayrides, spookwalks, home haunts, and more.